Love And A New Day
|
home




Awards

I refuse to ask for awards, so when they are received,
I display them proudly. Please click on them to
view their sites.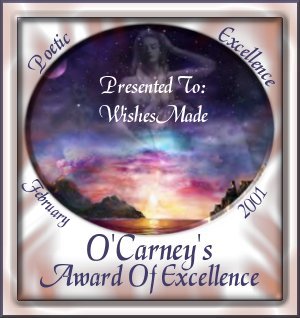 My first award, received 02/22/01, Thank-You O'Carney,
you still remain someone whose site I admire more than
my own.
Christine has been my online friend for sometime. She
lives in Canada with her husband, John. We met
through my old site, and though she is younger than
me, sometimes she becomes a mother. You will not
waste your time visiting her site, it is filled with
not only dedication, but inspiration and humor.
Musical selection is the theme from "Wonder Years".
Unknown sequencer, if someone knows please
tell me so that I can give them credit.